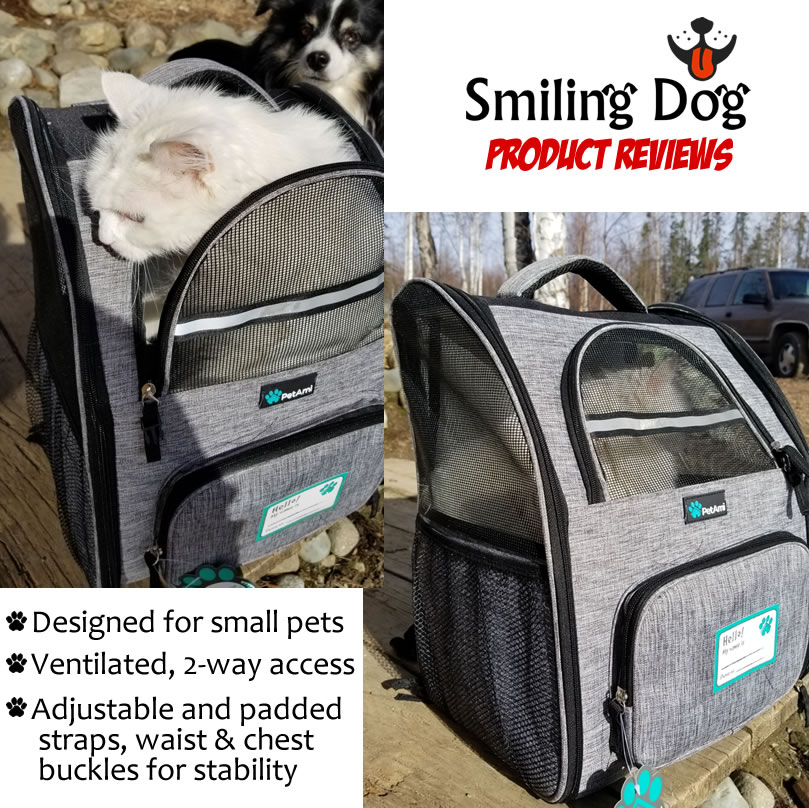 PetAmi makes premium quality pet carriers and blankets made with the highest quality materials for pet comfort and durability.  This particular bag is made for hiking, backpacking, traveling, or even just to the vet. This carrier best suits small animals under 10lbs, such as toy dogs, kittens, chinchillas, guinea pigs or rabbits…any small pet would do nicely with this carrier.  The fabric and mesh construction are heavy and durable, the stitching is even and strong, zippers and smooth and don't snag and the safety snaps and breathable mesh make it very safe. It sits well on my back and the padded straps and backing make it very comfortable to carry. There's also a sturdy top handle for carrying by hand. A lot of work went into this design and it shows:
It measures approximately 12.5″ x 10.2″ x 16.3″ (L x W x H). Easily fits small cats, small dogs and puppies.
It has a well ventilated design for optimal airflow, two-way entry for easy access, zip up mesh window for more headroom and visibility, and thick, cozy sherpa lined bedding so your pet can rest and relax.
This backpack is firmly structured, providing ample room for your small pet to move around.
Designed with safety in mind, it is equipped with a firmly reinforced structure to prevent itself from collapsing on your pet while traveling. Also comes with a safety strap and buckle to secure your pet and prevent escape. Airline Approved.
The back and shoulder straps are equipped with extra thick padding for more comfort during long trips. This backpack comes with both waist and chest buckles to give you extra support.
We also added side pouches and a front pocket to store essential pet supplies and a collapsible pet bowl so you can keep your pet hydrated on the go!
Made with durable 600D high grade polyester for a long-lasting experience; Available in 9 Colors – Black, Dark Gray, Heather Gray, Heather Taupe, Light Blue, Light Gray, Pink, Royal Blue, Red
I really love this bag and it's probably one of the nicest ones I've ever owned.  I bought it for Breezy but she's just a  little too big so I'll have to keep looking. PetAmi is a new name to me but I'll definitely be keeping an eye on what they're doing.
You can find more info on the PetAmi backpack carrier at Amazon.com: (no affiliate links)
https://www.amazon.com/PetAmi-Backpack-Ventilated-Two-Sided-Features/dp/B07B62YX1V